Welcome - Bienvenue
Gamine & Zidane's Babies
the 25th July 2010
My Oh My of Lollipop - Sable Gold Male - Reseved
Mona Lisa of Lollipop - Sable Femelle - Reseved
My Dancing Queen of Lollipop - Sable Gold Femelle - Reseved
Mama Mia of Lollipop - Sable Femelle - Reseved
May I of Lollipop - Sable Femelle - En cours de Réservation
Mystic Miss of Lollipop - Sable Femelle - Reseved
Gamine & Babies in their "nest" / dans leur "nid"
Protection from insects
28th July - Maman & Bébés se portent bien - Mother & babies are fine
5th August / 5 août
13th August ... Starting to discover ... La découverte comence ... !
We have plenty of space ... but we like to hug up together !
Above / Ci-dessus /18th August / 18 août
Below / Ci-desous / 22nd August / 22 août
Meeting with the rest of the tibby family
Rencontre avec le reste de la famille tibbies
Armani Baby doing Doggy sitting
Armani Chiot faisant du doggy sitting !
Mona Lisa & Mystic Miss
May I
Mama Mia
Mona Lisa & My OH My
Mystic Miss
"Milk Party" !
Mama Mia
26th August / 26 août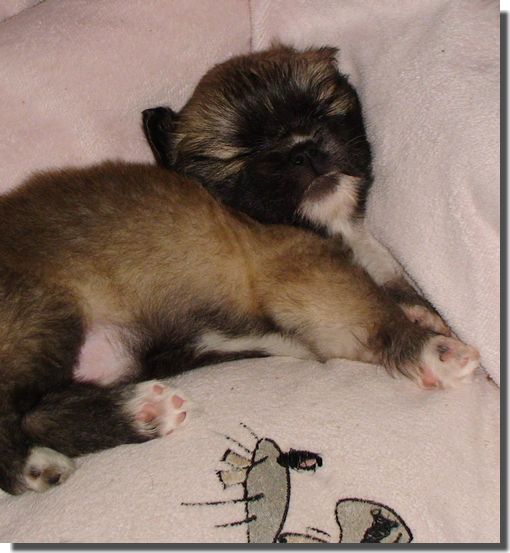 May I ...
My Dancing Queen
Mama Mia
My OH My
Mona Lisa
Mystic Miss
The father of this Litter - Le père de cette portée
"Zidane"
Owner & Pictures Lobsang Kennel - SLO / Vesna
Thank you to Vesna & Robi
The mother of this Litter - Le maman de cette portée
"Gamine"
Pictures Lobsang Kennel / Va Design - SLO
3 pictures above - June 2010
Owner Lollipop Kennel
Clic on Gamine's pictures to open her page
Clic sur les images pour ouvrir la page de Gamine
Both Sire & Dam PL 0/0 and clear eye testings
Les 2 parents pas de luxations des PL et controles oculaires en ordre
La Mise Bas Commence ... The Welping has started ...