Happy New Year !
Heureuse Nouvelle Année !
New Page / News / Nouvelles 2013 -1
Que Sera Sera of Lollipop ... Notre petit "miracle" de fin 2012 !!!
Sire WW03-CH Teddy of Lollipop / Dam CH Whoopie of Lollipop
"Que Sera Sera of Lollipop" ... Our little New Year "miricale" !!!
Sire WW03-CH Teddy of Lollipop / Dam CH Whoopie of Lollipop
New Photos of My OH My of Lollipop
on the 4th of January 2013
VIDEO of the 6th Eukanuba World Challenge (entry section 1 & 2)
Nous sommes émus de voir partir JF et Boo, qui ont l'Honneur de représenter les couleurs de la Suisse a l'Eukanuba World Challenge. Revenez-Nous le cœur plein de merveilleux souvenirs !

We are "touched" to see JF and Boo leaving for the Eukanuba World Challenge where they have the Honnor to represente Switzerland. Return to us the heart full of wonderful memories
13th December 2012 - Jean-François and Boo have landed in Orlando !
le13 Décembre 2012 - Jean-François et Boo sont arrivés à Orlando !
Merci pour vos nombreux e-mails !. C'est une "aventure" géniale ! Toute une suite de partages, de travail en groupe, de qualifications. Un honneur de représenter son pays. Formidable pour la race des épagneuls tibétains d'être présent à cet finale " du Eukanuba World Challenge" à Orlando qui est émouvant et comme dans un rêve ... Tous présents sont des chiens superbes qui ont été qualifiés les meilleures dans leur pays ... Cela a été un spéctacle magnifique à regarder, un régal pour les yeux !

Merci au Spansor "Eukanuba", aux Juges qui on aimés Boo Boo, A Jean-François pour son superbe Handling & aux amis qui nous ont soutenus.
Entry of Jean-François & Boo with Mrs Christine Rossier from the Swiss Kennel Club

Entrée de JF & Boo avec Mme Christine Rossier de la Société Cynologique Suisse
Thank your for your numerous e-mails! It is a brillant and wonderful "adventure" !!! A whole continuation (suite) of divisions (sharings), group work, qualifications. An honor to represent it's contry. Formidable for the breed of Tibetain Spaniels,to be present in this final of the "Eukanuba World Challenge" Edition 2012 in Orlando & it is touching and like a dream .... Are present many wonderful dogs which are copnsidered as the best in thier contry ... It will be a magnificent spectacle to follow and a delight for the eyes !


Thank you to the Sponsor "Eukanuba", to the Judges that have aprediated Boo Boo, to Jean-François for his lovely Handling and to our friends for their support !
Let's RE-PARTY !!!
Officiel Party !!!
A "POP IN" in the Open Dog Class at the regular show one day, between the Competiton of the "Eukanuba World Challenge", the Photos and Party's of the EWC !
VIDEO - Thanks .... Heu ... Yes ??? But What did I win ??? !!!! Merci ... Heu ... Oui ??? Mais qu'est ce que j'ai gagné ??? !!!!
REMINDER - RAPPEL / Final Eukanuba Swiss Top Dog à Lausanne - Oct 2012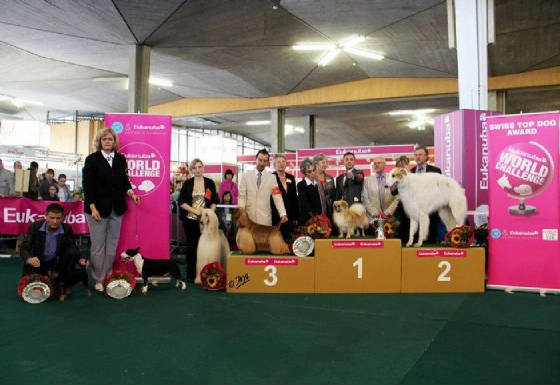 Fun in the Snow - December 2012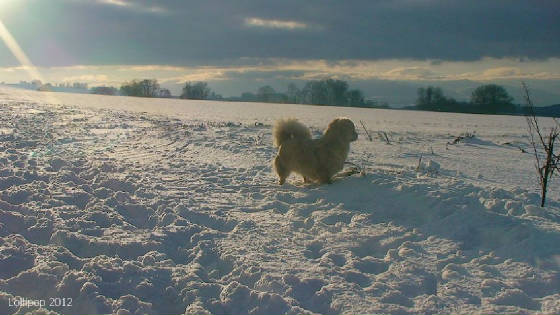 International Show Marseille

24th of Novembe 2012

Judgements of Mrs Veyrier - France
Handling JF Lallemand


WW12-CH Boo Boo of Lollipop
CACIB - BOB / Meilleur de Race


KALTEKHAN BLAH BLAH BLAH
Very Prommising - BOB Puppy
Southern Colorado Kennel Club Shows
November 2012
CH To Be Freee of Lollipop
"Metro" getting his first points forward to his Grand Championship
Day 1: Judge: Mrs. Kathleen M Grosso Select, 1 GCH point
Day 2: Judge: Mr David M Krogh, BoB, 4 GCH points.


Congratulations to his Owners / Handlers
Linda and Joseph Champoux - NM / USA